https://www.youtube.com/watch?v=uPBfqDttrNU
200 hour Yoga Teacher Training in Europe and India
Create breakthroughs in your yoga practice and become a confident yoga teacher. 
Join Ashtanga and Vinyasa Yoga Teacher Training Courses in Europe-Greece and India-Goa.
200-hour Foundational Yoga Teacher Training in  Greece - Europe and India - Goa.
Vinyasa Flow and Ashtanga Vinysasa Yoga
Yoga is just like holding a kitten. It feels so sweet that you want to take it home. And you want to show it to everyone.
Whether you choose to teach (or not) after the course is up to you. Either way, immersing yourself in an on-location 200 hour yoga teacher training in Europe or in India is the best way to take your knowledge to levels you didn't know existed. To make gains in your yoga practice that you didn't think were possible.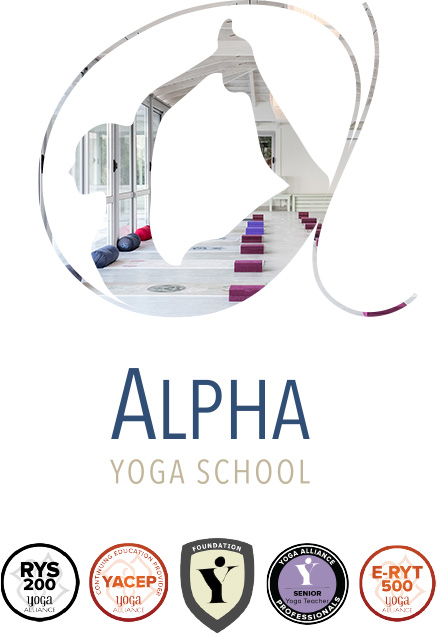 Learn everything about the training...
Our asana curriculum is split equally between Ashtanga Vinyasa Yoga and Vinyasa Flow Yoga, with 3 Ashtanga and 3 Vinyasa yoga classes/week.
Ashtanga Vinyasa Yoga is a pre-set sequence of postures linked by the breath. Through the practice of breathing, postures (asanas), and gazing points (Drishti), the practitioner slowly gains control of the senses and mind. Over time, with repeated practice and devotion, it unfolds into a moving meditation, awakening a sense of subtle awareness within. The mind becomes calmer, and slowly we are able to clear away the clutter. When this happens, the light of yoga begins to shine. This is the transformational beauty of the Ashtanga Vinyasa Yoga method.
No two vinyasa classes are alike. The morning Vinyasa classes are designed to complement the theory covered in "Teaching skills".
In these classes, you will grow as a practitioner, deepen your practice and learn to work with your body in a more skillful and effective way.
Learn essential sequencing principles in order to create your own Vinyasa Flow classes. Look at the difference between sequencing for beginners versus intermediate students.
The different types of Vinyasa classes covered are:
well rounded class
peak pose class
peak pose per-flow
themed class
Teaching skills also include how to:
demonstrate asanas including reasons to demonstrate, when, why, do's and don'ts.
maintain group energy.
modify asanas.
work with a mixed level of practitioners class.
give verbal instructions.
use your voice as a yoga teacher.
There will be lots of practical teaching, planning, guidance, and feedback on how to improve all these teaching skills. You will observe, teach and receive constructive feedback from your fellow students and your teacher.
More than 51 yoga postures will be examined in terms of:
Correct and safe positioning and alignment of the body in space, also called the "Key Alignment", and the aims of each pose as based on the individual level of a practitioner.
Common misalignments, misconceptions, and tendencies that you may not even be aware of.
Modifications for even the most advanced poses, using props or not, that set you on a safe path towards the goal of the full expression of a pose. This means that wherever your body is at the moment, you will know what is the correct and safe road to take and options to use for each pose. Also, what is the best option that you can offer to your students as a teacher based on their level of strength and flexibility.
Once your body allows you the joy of full expression in a yoga pose, where do you take it from there? This is where we introduce the "Advanced variations".
The art of hands-on adjustments with many opportunities to practice on your peers, while receiving feedback from them and your teacher.
Breaking down complex postures like lotus (Padmasana), headstand (Sirsasana), transitional push-ups (Chaturanga Dandasana), jump back & jump through, as they deserve more attention and time.
Learn how to recognize when your body is ready to attempt them, how to progress in practicing them, and, if you choose, how to teach them to others.
We teach pre-requisite steps that include preparation exercises, appropriate warm-up, and requirements for the full expression of these postures. These classes will bring safety, awareness, and mindfulness to your practice and teaching. They are a game-changer 🙂
You will explore functional yoga anatomy and how to safely deepen your practice through your body. You will learn about the skeletal, muscular, and nervous systems through a comprehensive breakdown of the regions of the body most applicable to yoga practice.
Through practical application, you will investigate the different types of connective tissues, experience the movements of the joints, and connect with your fascial body.
You will leave with a more profound and yoga-related understanding of your own and your students' body anatomy.
Yoga philosophy is interwoven throughout the course.
We will explore what yoga really is; its meanings, significances, ethics and practices in the past and present. We will investigate the roots of the practice; the Vedic tradition and its culture, myths, mantra chanting, bhandas, kryias and their meaning.
We then continue down the evolutionary paths of both classical and modern yoga practices. You will be introduced to the Yoga Sutras of Patanjali, the Hatha Yoga Pradipika and the Bhagavad Gita, gaining insight on their commentaries. We will discuss how to integrate yoga philosophy into our every day life.
This course is conducted in English and it's open for all yoga practitioners. Students with injuries and health issues are encouraged to attend this training.
What's most important is that the applicant arrives with an open mind, an eagerness to learn and to be a student. If you have these values, we welcome you with open arms.
Upon successful completion of the practical and written assignment, you will receive a 200-hour certificate of completion.
Therefore, you will be eligible to register with Yoga Alliance USA and UK as a 200-hr Registered Yoga Teacher (RYT-200). Yeah :-))
How is this all possible in just 3 weeks?
You won't learn a myriad of yoga styles, such as Acro yoga, chair yoga, pre or postnatal yoga. You will not leave with knowledge that is scattered.
You will not get distracted by learning how to perform cacao, fire, or ecstatic dance ceremonies. You can find that on much shorter courses or yoga retreats.
You will keep the focus on establishing a strong foundation first. From solid practice and skills, your true passion and favorite niche can finaly be discovered.
Choose location for your 200-hr YTT and uncover prices
200 hour Yoga Teacher Training in Europe-Greece.
Join us on Lefkada Island
200-hour Yoga Teacher Training in Europe-Greece.
Join us on Corfu Island.
200-hour Yoga Teacher Training in Europe-Greece.
Join us on Evia Island. 
200-hour Yoga Teacher Training in India-Goa.
Join us on Ashwem Beach. 

Certification and Educational Categories
This 200 hour Yoga Teacher Training in Europe and India is registered with Yoga Alliance U.S.A. and Yoga Professionals U.K.
It focuses on 4 educational categories:
Asana practice: You will practice Ashtanga and Vinyasa Yoga in the mornings.
Teaching Skills & Adjustments: You will start teaching and practicing hands-on adjustments on your fellow students from week 1. You will receive constant feedback from the teachers so that you can improve each and every time.
Yoga Philosophy, not learned in studios.
Functional Anatomy, so that you can understand how your own body and how your students' bodies move in the postures.
When it comes to sequencing, Vinyasa is everything. 
Ready to try a vinyasa class with us? Then put out your yoga mat and practice with Joanna her 1-hour Vinyasa Yoga Class.
If you can breathe, this training is for you...
This 200 hour Yoga Teacher Training in Europe and India is not just designed to train you to become a yoga teacher. It's a foundational course designed for all yogis.
It is ideal for serious yoga students who wish to deepen their existing practice, for those who want to learn about other aspects of yoga, and for those who want to teach yoga to others.
It's also suitable for yoga instructors wishing to expand their existing skills and learn other styles of yoga.
Obtain a solid self-practice based on the Ashtanga Vinyasa Yoga method.
Ashtanga Vinyasa Yoga works with a set of postures that open, strengthen, and purify the body. It's a challenging and moving meditational practice.
This ability will allow you to take your practice away from the studio and to practice on your own anytime, anywhere correctly, and safely.
By the end of this 200hour Yoga Teacher Training in Europe and India, you will obtain the skills, tools, and confidence to teach Vinyasa Flow Yoga.
You will also learn how to teach classes based on Ashtanga Vinyasa Yoga.
Practice teaching in a safe environment where it's totally OK to make mistakes.
Teach yoga to your fellow students. Give and receive constructive feedback from them and from your lead teacher. Have fun in these classes while growing as a teacher.
We encourage each student to discover and develop a unique style and voice as a teacher.
Listen to students' experiences on their 200-hr YTT with Alpha Yoga.
Your typical training day...
Daily schedule of your 200hour YTT
07:00 - 07:50
Meditation and Pranayama
08:00 - 10:00
Vinyasa or Ashtanga Yoga (physical practice)
11:00 - 13:00
Anatomy / Philosophy on alternate days
13:00 - 15:00
Free time / Snacks
15:00 - 16:45
Alignment and hands-on adjustments
17:00 - 19:00
Teaching Skills / Sequencing / Workshops / Yin / Restorative / Free Time
Saturday: Half day
Sunday: Free day
Do you like bullets? The training at a glance...
200-hour Yoga Teacher Training in Europe and India Overview
Ashtanga Yoga 3 times /week - the only Yoga style which helps you deepen your practice and at the same time discover yourself beyond the physical body.
Vinyasa Yoga 3 times/week - the modern style of yoga which allows you to move freely, in a creative yet challenging & sweaty way.
Teaching skills (how to give instructions, sequence, demonstrate, position yourself).
Hands-on adjustments (a module which you will not find in other 200-hour YTT). When you think you're doing your best in a pose, Martin comes and adjusts you and you're are like: "Ahhh...that's how the pose should feel..." 
Modifications, variations, and use of props. If you are new to yoga and want to learn how to practice safely, this is super helpful. If you want to deepen your practice, props can also do that as well.
Alignment break-down for 51 yoga poses. Everyone's favorite subject, where you will not only learn how to place yourself correctly in poses but also have lots of fun with Martin.
Functional anatomy applicable to the yoga practice where you learn about your own body. This knowledge helps you create safe yoga classes so that your students will not get injured in your classes, but on the contrary, they will make progress.
Breathing and meditation techniques. This is the study of the breath so that you can learn how to control the breath and the mind in stressful situations even off the mat.
Yoga philosophy is where you find answers to deeper questions.
The business of yoga, career, and all the marketing things.
Workshops for more challenging poses. Game-changer 🙂
Teaching your fellow students and receiving constructive feedback from them and from the teacher.
Joanna and Martin are excellent teachers. Martin will definitely teach you how you should improve your alignment so you actually feel something and get the real benefits. I for instance have always thought that I will have to practice some more years to begin with arm balances but after a good preparatory Vinyasa class of Joanna I was in side crow and other crazy asanas which felt amazing! Thank you for those moments! And receiving adjustments from such talented and experienced teachers as Martin and Joanna is such a treat. To whom would I recommend this YTT? If you love doing yoga, you don't fear sweating (Ashtanga!), are a curious person and would love to spend a good time in wonderful Greece – go for it!

Nora Tabea

England, UK
This teacher training was fantastic. One of the most valuable things was taking the asanas back to basics — understanding the foundations really enabled me to deepen my practice and correct the mistakes I had been making unknown for years. More than just the asanas, the course places physical practice in the broader philosophy and helped me understand that yoga is about so much more than what happens on the mat.

Jenni Smout

England, UK
I decided to do a yoga teacher training, not with the intention to become a yoga trainer, but to improve my knowledge about yoga and especially about the physical part - alignment. I did a lot of research to find out which training would be the best for me. In the end I chose Alpha yoga school because of the very personal contact with Joanna from the beginning. She convinced me somehow to do the training and with her very open, helpfulness and friendly attitude she gave me the support I needed. These attributes I felt during my whole training. Joanna and Martin are very open, lovely persons and funny (especially Martin). They always take the time for you and your questions and wishes. During the whole training Joanna and Martin were very close with the whole group. I improved my alignment and learned to feel my body with a lot more attention. Also mentally I developed new strength and find back some of my positivity, gratefulness and calmness that I lost a bit in the stressfully daily-life at home.

Gesine Matter
If you search for a high quality yoga teacher training, which challenges you, makes you laugh and opens new perspectives of living your life, you should choose this one! It was an incredible time, we learned so much about our own body, yoga philosophy and how to teach in a safe and good way. I came as a yoga loving girl and left as a yoga loving teacher with a bag full of new friends and unforgettable memories. It was on the one hand really challenging and exhausting and on the other hand such an intense, emotional, wonderful time with a wonderful group of people and wonderful teachers!! I highly recommend this yoga teacher training! Lots of Love Lea

Lea Hausner
You made everyone feel so welcome and supported throughout this challenging and intensive journey. I am definitely missing the group energy and the fun morning Ashtanga and Vinyasa flows! I just did my first Mysore style class and it was a unique and new experience for me. This YTTC will be an experience I will never forget and I'm so happy I went on this journey - thank you for it all!

Alex Aitken
Students reviewed their 200-hour yoga teacher training experience with Alpha Yoga.
Frequently Asked Questions (FAQ)